Registered Trademark of
Embedded Control Systems

The Next Generation of OMR Software

09216192130
09216592130

OMR Checking Software
High Speed and 100% Accuracy.
Checks OMR Sheet of unlimited designs.
Any kind of Paper can be used for OMR (Laser/Photostat).
Compatible with all Document Image Scanners.
Integrated with Student Management System and Anti-Cheat Question Set Generator.
Admission Forms processing and data extraction with photographs.
Important Fact of new CBSE Pattern OMR Evaluation
Each paper offers extra questions. As an example: A question paper with two sections, A and B, each carrying 30 questions, with 20 to be attempted from each. Say, a student attempts 20 questions from Section A (and gets 18 right) and 24 from Section B. How will she be evaluated?

The new marking scheme says that only the first 20 answers from Section B will be considered and the last 4 ignored. Say, the student gets 15 of the first 20 answers right. She will be credited with 18+15 or 33 correct answers in that paper. So, if some of the answers the student was most confident about — and presumably the likeliest to get right — came after the first 20 she attempted in Section B, she would be likely to lose out.

"This is a clear-cut message that students should attempt those questions they are most confident about. They should not attempt more than the required number of questions," a schoolteacher said. "If the student uses the option of un-attempted questions, then only her responses after question No. 20 will be evaluated."
Question Set Generator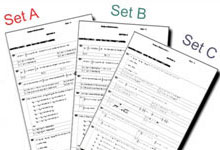 " It was accurate, reliable and trust worthy. We surprised many with our efficiency. Thanks to Qwizpad, we did what we said!
"
Fr. Maria Vincent Raj. Prinicpal Don Bosco PU College Chitradurga.
More than 500 Top Coaching & Educational Institutes throughout India are using QwizPad as OMR Solution, are you?"